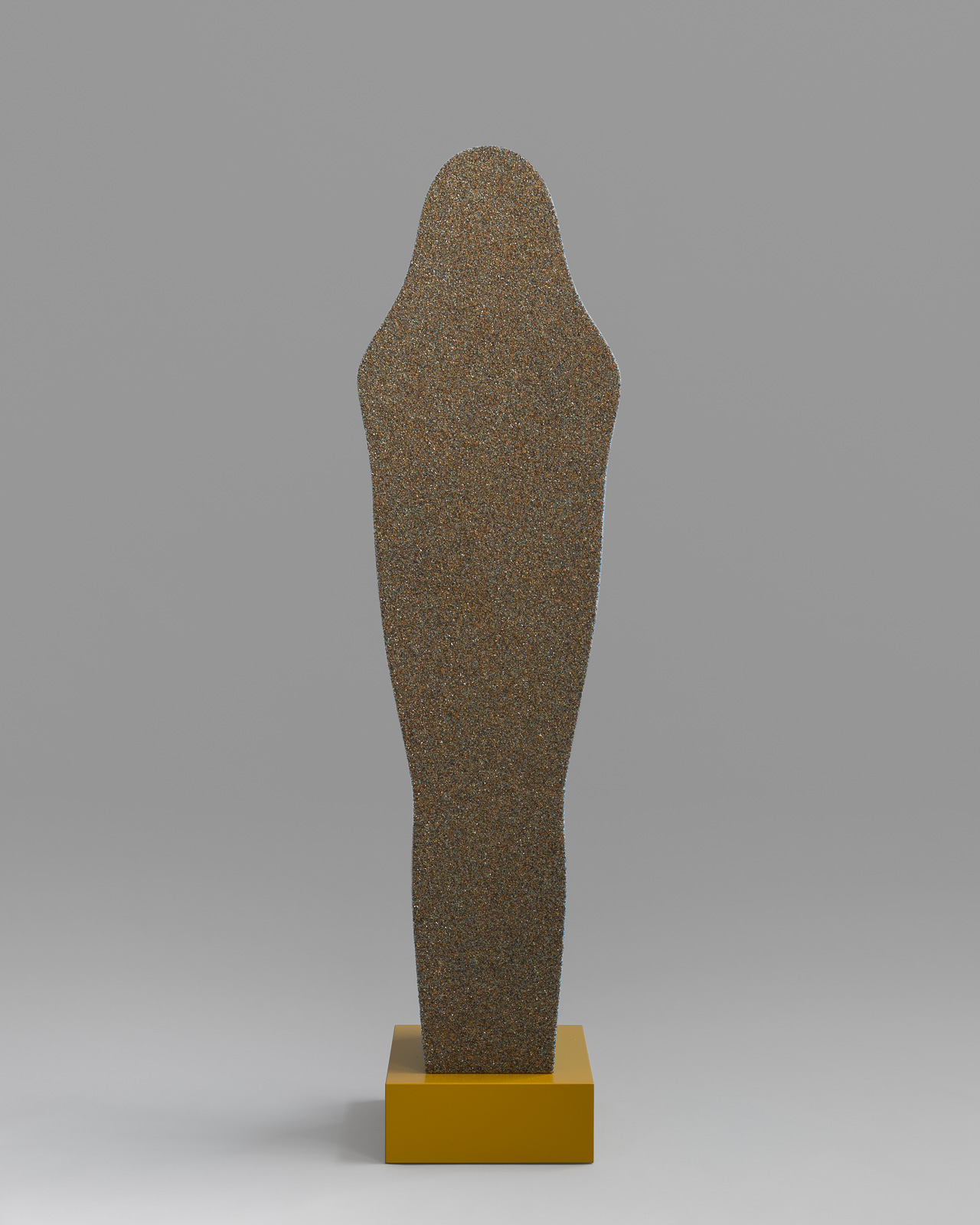 Statue
, 2018.
Polystyrene, sand.
180 x 47,5 x 49,5 cm
Courtesy Maab Gallery, and Vincent Beaurin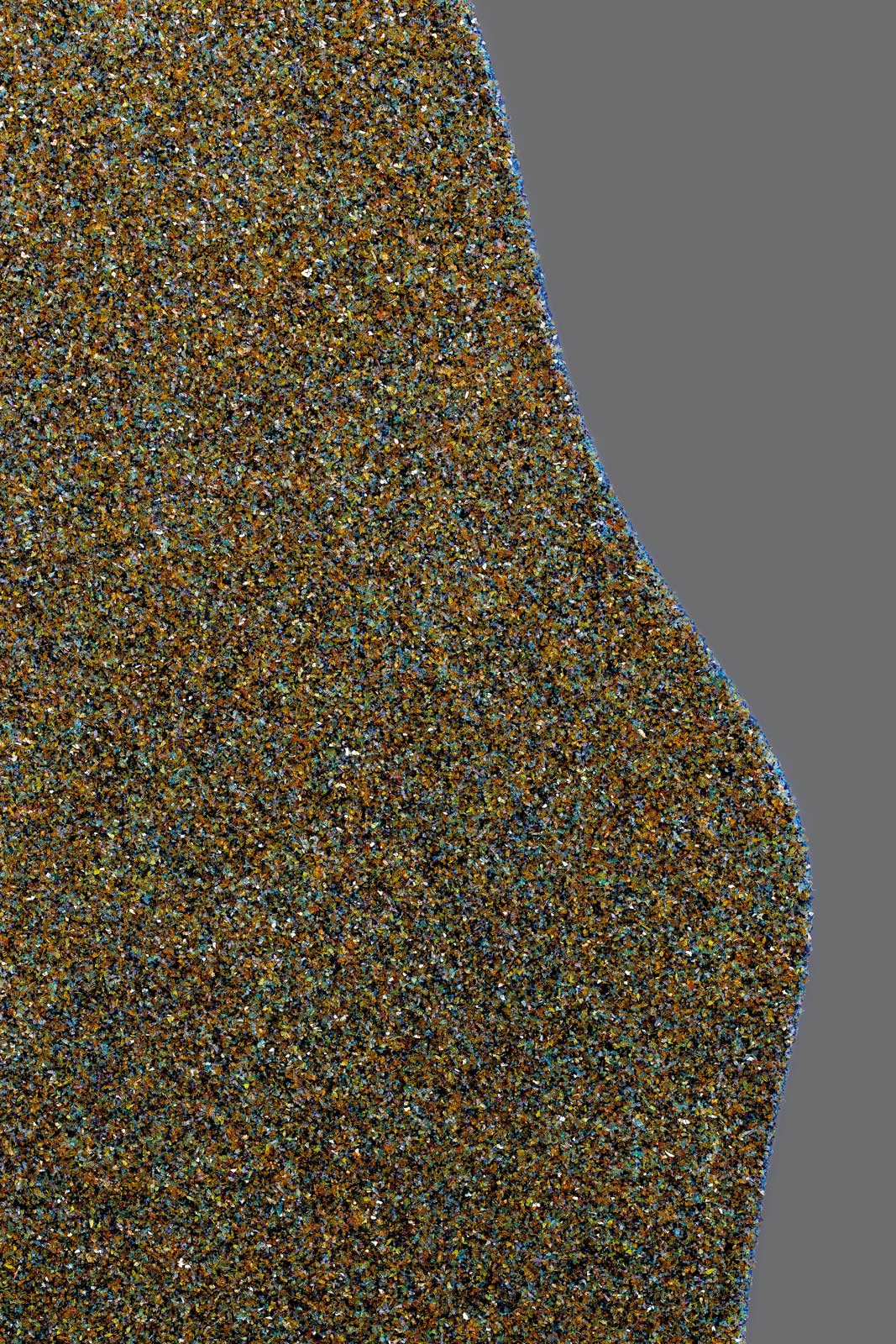 Detail
Polystyrene, sand, glass.
180 x 47,5 x 49,5 cm
Unique
Courtesy Maab Gallery, and Vincent Beaurin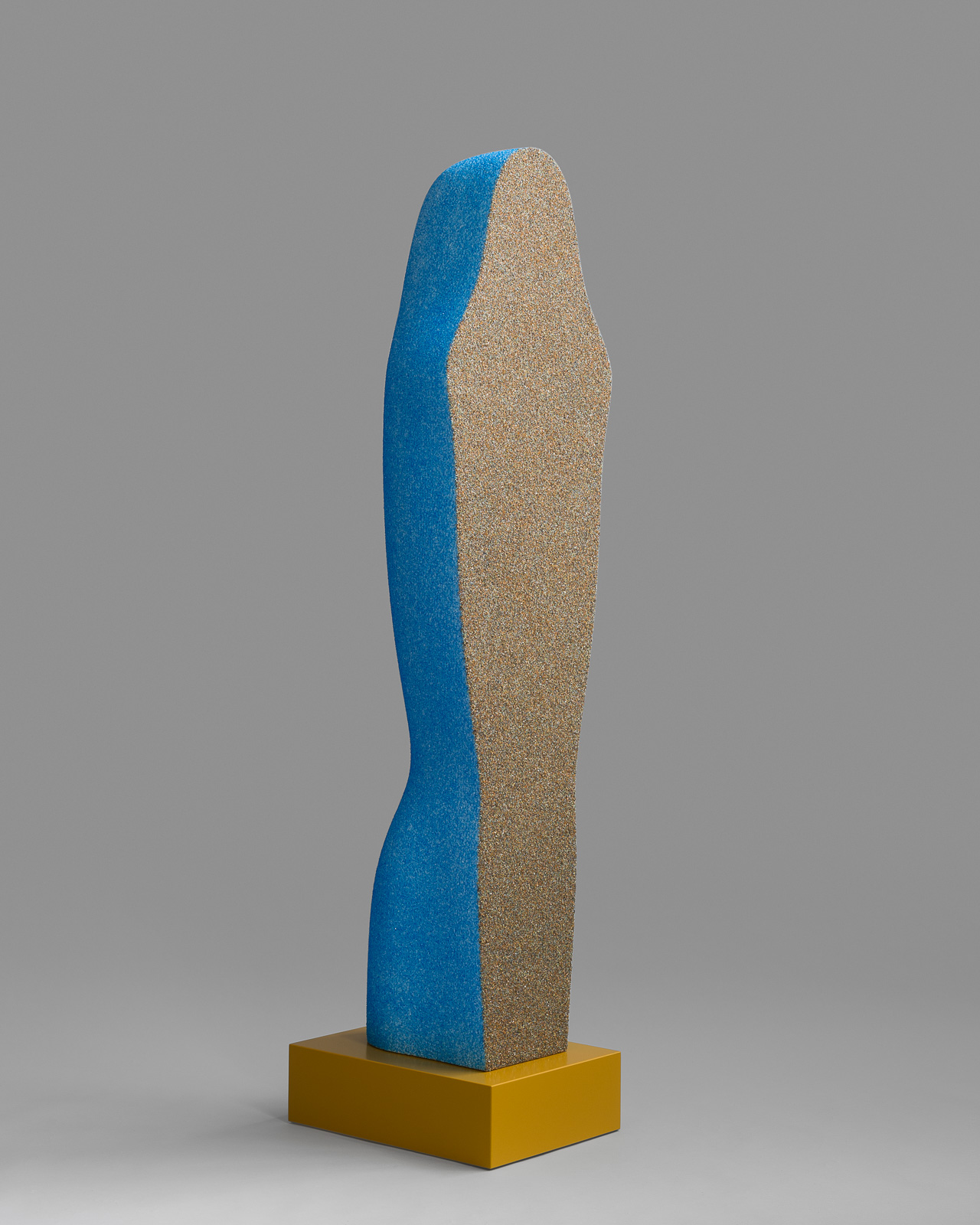 Polystyrene, sand, glass.
180 x 47,5 x 49,5 cm
Unique
Courtesy Maab Gallery, and Vincent Beaurin
Polystyrene, sand, glass.
180 x 47,5 x 49,5 cm
Unique
Courtesy Maab Gallery, and Vincent Beaurin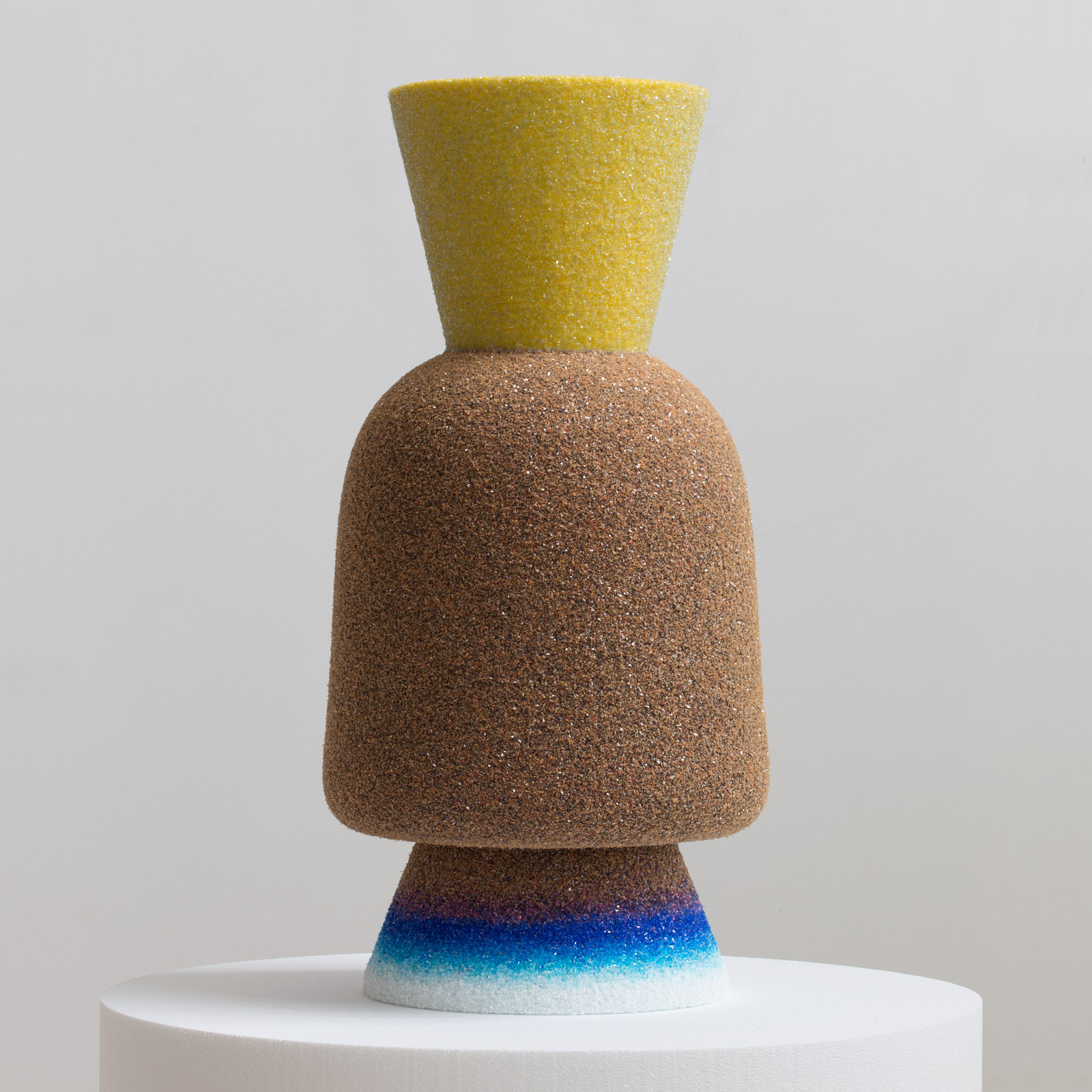 Sérapis
, 2018.
Polystyrene, glass.
73 cm x Ø 36 cm / 28 3/4 x Ø 14 1/8 in.
Unique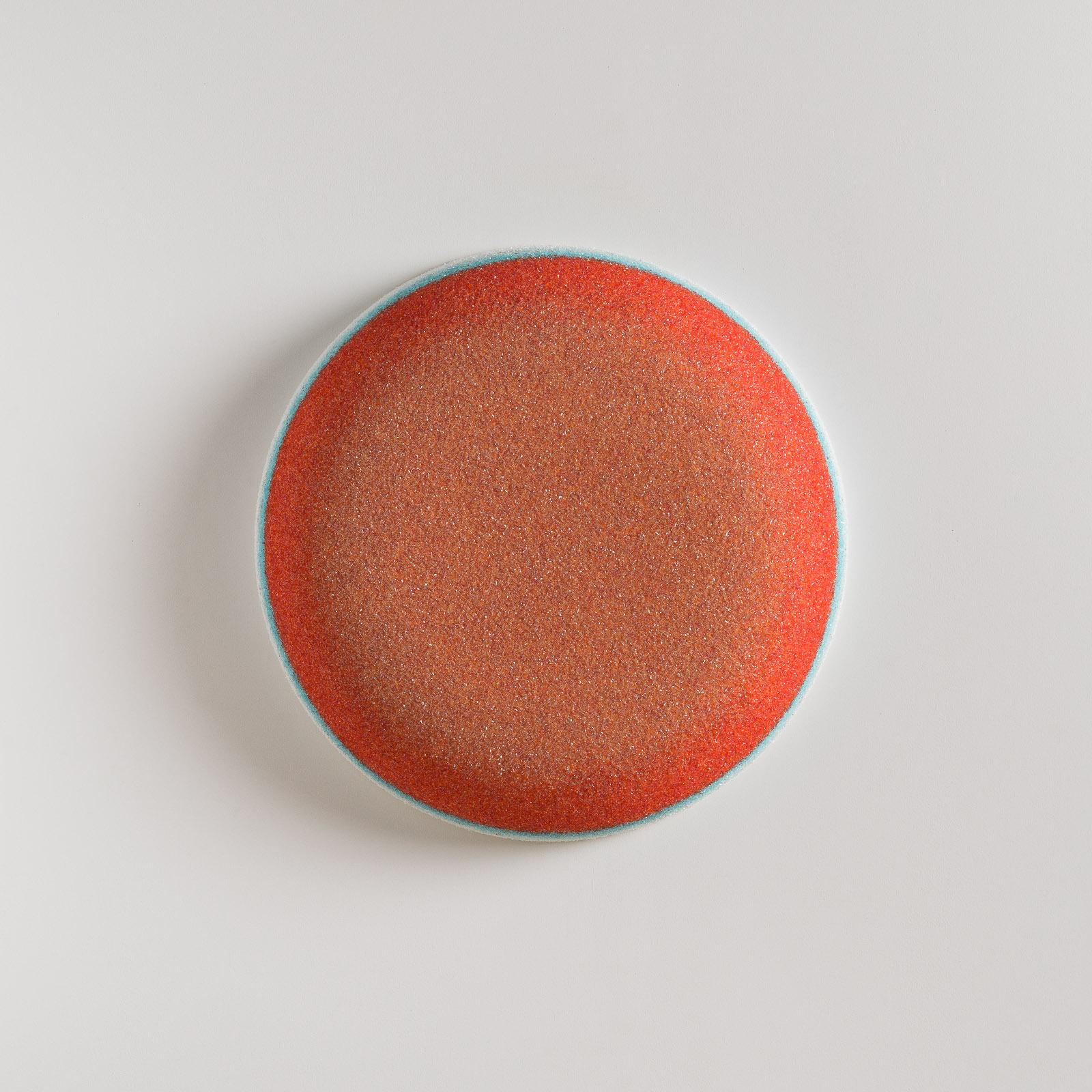 Ocelle
, 2018.
Polystyrene, glass.
Ø 71 x 13,5 cm / Ø 28 x 5 1/4 in.
Unique
Ocelle és una paraula francesa que fa referència a les taques arrodonides i policromades que es troben a la pell, les ales i les plomes d'alguns animals com per exemple les papallones. Aquestes taques policromades serveixen com a mitjà d'intimidació i defensa, ja que simulen els ulls dels mamífers o, també, com a sistema de camuflatge.

Ocelle és la paraula que Vincent Beaurin utilitza per denominar les seves peces arrodonides, com les 13 obres que conformen l'exposició La treizième constellation (Le Serpentaire).

La 13 ième constellation (Le Serpentaire) - Pascal Rousseau - juin 2018

L'obra de Vincent Beaurin és una exploració sensible de colors, superfícies i materials. Una cerca per trobar la forma més exacta de deixar desplegar un color viu i atmosfèric dins l'espai. Per aconseguir l'efecte hipnotitzant d'aquests discos irradiants, l'artista s'encarrega d'assumir ell mateix la integritat dels processos de fabricació, fins i tot les funcions finals de refinament de la forma. L'artista poleix les taques de poliestirè amb una serra dentada i un raspall, sense cap possibilitat real de recular, reivindicant el 'savoir-faire' d'una producció feta a mida. Aquesta obra va unida al llegat de l'abstracció modernista, unint-se a una història estètica de més llarg terme qui, des de Turner fins a Kandinsky, s'apropa a revelar, dins l'activitat dels llindars del color, les fronteres de lo visible.
Podríem parlar d'una recerca de la forma primordial on els contorns, inestables, es fonen i desfonen amb la facilitat progressiva que té el color. El treball sobre la vibració cromàtica és molt sofisticat. Vincent Beaurin recobreix els seus Ocelles de petites boles i flocs de cristall, i un cop ha encolat la peça amb resina, material que treballa com a fixador, l'artista empolvora la superfície amb aquests flocs de cristall, els quals resisteixen a qualsevol alteració expositiva a la llum i a l'efecte corrosiu dels ultra-violetes. Repeteix aquesta operació diverses vegades després de l'assecat. És doncs, la multiplicació d'aquestes fines capes el que optimitza aquest subtil efecte de vibració, amb el principi de barreja òptica de colors portat al seu millor resultat, amb tonalitats i valors barrejats entre el centre i la perifèria del quadre. (Vincent Beaurin és un fervent lector del tractat sobre el color de Goethe)
Aquest efecte d'aura ens porta literalment al que Walter Benjamin entén per "l'aquí i ara de l'obra, la unitat de la seva presència amb el lloc on es troba." La superfície irradia al voltant seu una distància abstracta per evitar denigrar la seva presència a un simple fet visual. Mirada i presència van de la mà: són un tema d'equilibri i de tacte.
La forma dels discs apareix a partir d'una progressiva erosió dels volums i de les superfícies, propers a l'afilament artesanal on la precisió afirma la complexitat tècnica del gest, per assolir un límit acuradament ajustat i buscat. De quin límit parlem? Aquell d'una congestió ad mínima dels cossos. Ser a la vegada molt present dins el camp visual, però desaparèixer com a objecte: tancat, envoltat, i escorredís a la vegada.
 
Els Ocelles donen cos al que Goethe anomena poèticament una imatge lluminosa (Lichtbild). Pensem aleshores amb els cossos celestes, no només amb el sol, sinó també en tots els altres astres, inclús els planetes.
En la tretzena constellació (Le Serpentaire), realitzada específicament per a la seva primera exposició aquí a Barcelona, Vincent Beaurin s'ha convertit en caçador d'astres. El volum dels seus Ocelles produeixen una corba de ressonància còsmica: com pensar en l'abstracció de la pintura com una manera sensible de trobar el seu lloc dins d'aquest univers complex de formes, de sensacions i de relacions. Els tretze Ocelles formen una alineació d'estrelles. El número ha estat triat. L'artista reinterpreta aquí la tretzena constel·lació, anomenada Le Serpentaire dins el vocabulari de l'astrologia. Tot i que existeix la discussió entre els especialistes dels signes del Zodíac, aquesta tretzena constel·lació, illustrada dins la tradició per un home portant una serp (es tracta d'Asclepios, metge que segons la mitologia grega, hauria matat una serp i, passat un segon, l'hauria reanimat amb herbes). Situat entre les constellacions d'Escorpio i Sagitari, és representada simbòlicament per una serp envoltada en una vara, convertit en l'emblema de la medicina. Podem dir, sens dubte, que aquest signe és portador d'harmonia i benestar.
Aquesta serp envoltada en un bastó o vara, és el que arqueòlegs catalans van trobar al 1909 a les ruïnes d'Empúries, al costat d'una estàtua grega ràpidament identificada com la figura mitològica d'Asclepios, el Déu greco-romà de la medicina. Tot això ens porta a un principi proper per Vincent Beaurin: la catarsis dels colors. La contemplació d?aquests Ocelles suspesos es propícia per a una cerca de benestar físic i mental (Goethe parlava de la "rosa dels temperaments"). La seva fixació permet abstreure's per experimentar la sensació de ser i estar al món. Instaura el que François Roustand, gran defensor de la hipnosi dins el camp terapèutic, va anomenar una vigilància: allò que "ens dóna accés al poder de configurar el món". La tretzena constellació de Vincent Beaurin és el trampolí d'una mirada introspectiva on l'individu juga un gran poder organitzador de cara al seu habitat. Ni punt de fuga ni línia d'horitzó, ens instal·lem en un estat embriagador d'ingravidesa. Luxe, calma i voluptuositat, sota el signe benèfic de la Serpentaire.

Pascal Rousseau, 2018.

Pascal Rousseau és historiador de l'art i professor d'Història de l'Art Contemporani a la universitat Paris I Panthéon Sorbonne. Ha estat comissari de les exposicions Cosa mentale. Les imaginaires de la télépathie dans l'art du xxe siècle (Centre Pompidou Metz, 2015-2016), Sous influence. Résurgences de l'hypnose dans l'art contemporain (Musée cantonal des Beaux-Arts de Lausanne, 2006), Aux origines de l'abstraction, 1800-1914. (Musée d?Orsay, 2003), Robert Delaunay. De l'impressionnisme à l'abstraction (Centre Pompidou, 1999).

Temes de recerca: Avantguardes, Història de l'abstracció, Sinestèsia i obra d?art total de finals de segle, Història de l'espectacularitat dels segles XIX i XX; Art contemporani, percepció i cognitivisme.
Domenico de Chirico, Milan, March 2018.
'This universe is a unique animal that contains in itself all the animals, having only one Soul in all its parts.' Plotinus, Enneads, IV, 4, 32, 1st original edition 3rd-4th centuries

At the centre of the ancient Greek philosopher Plotinus doctrine is the notion that unity is essential to life. For Plotinus 'Soul of the world' also known in Latin as Anima Mundi, is the vital principle out of which animals, human beings and plants take shape. This universal principle enables us to understand the lower degrees of nature and not vice versa. According to Plotinus, life does not assemble individual elements in order to create the most advanced and intelligent organisms because intelligence must already be present within life itself. However, ideas must remain intrinsically transcendent expressions of the same intellect which, in thinking about itself, makes itself an object in itself. Being and thought thus form a unicum. In the aesthetic-cum-formal practice of the artist Vincent Beaurin this unicum might correspond to Nature, which, from a simple principle, causes the manifold to arise. Here, while each articulating and differentiating themselves with respect to their own individual specificities, single organisms/elements are in fact linked by a pre-conceived mechanism which only exists when it is divided into individual works. The main elements of the work of Vincent Beaurin are gathered here on stage: colour with its energy, air and light, body, figure, sinuosity, and sparkle. The unicum stands out in the form of sparkling particles, manifesting itself continually each time and in each element in a different way, in the end, abstraction is understood as an impulse to a broader and more general vision that radiates, defining itself in a continuous interplay of coming and going. Light plays a fundamental role in this cyclical movement. A glow is always present in Vincent Beaurin's works. It is almost as if his works preserve the luminous element within themselves and this glow seems to refer to that uniqueness, which, as stated above, is divided and united, and manifested in its variety through colour that gradually becomes matter. His work as a sculptor consists in solving and balancing mutual pressures, particularly between a body in the making and the space containing it, not forgetting everything that is already present in space. This careful study is evident in this exhibition at the National Museum of Ceramic - Sèvres - Cité de la Ceramique. In it, Vincent Beaurin's works simultaneously evoke a sense of extreme lightness and heaviness, and seem to dance with the host environment. It is almost as if their light embraces the surrounding elements in a continuous association that expands that sense of everything being immanent in his work and everything being rooted in this event. In so doing, taking things beyond their specificity, the contours become blurred and everything is illuminated. The light-bearing air as well as the breath intended as an irradiating force, seem to play an important role in this enveloping and dynamic approach.Everything alludes both to what is hidden in colour and to what is hidden in the intimacy of matter. It is as if there were two types of light: one that illuminates objects and is distinct from shadow, and one for which the same objects do not represent predetermined obstacles or screens because they are self-sufficient elements defining themselves more precisely and even more by night or in a pleasant state of quiet. Each work of art is positioned in space, reproducing an effect that, due to its unusual qualities, can be defined as 'aura'. Each work is the aura of itself and at the same time, the aura of a distant call that keeps getting closer and closer.
MEMENTO VIVI - Clément Dirié - June 2017
Vincent Beaurin's works are quiet, telluric, radiant witnesses.

Since his research undertaken in the 1990s - first as a designer and creator of objects, then, in no uncertain terms, as a visual artist - what is involved for him is the creation of forms which express his world and transmit it. His world - like our world - is neither figurative nor abstract, neither decorative nor speculative, and neither useless nor useful: it is all at once, loaded with a power clamouring only to be expressed, and irradiate and impregnate our retina. An impregnation which disturbs our perceptions of boundaries and givens, permitting the advent of a space, more fluid than the artworks, in which their forces and those surrounding them are in exchanges, and of a time, more vast than their observation, thanks to their optical potential and the "after-images". I am obviously thinking here of the Ocelles, chromatic spectrums with endless variations, and of the "pictures" made of aluminium honeycomb panels, but also of the precious statuettes, hybrid sculptures, eccentric deities and monumental totems which Vincent Beaurin is increasingly erecting outside traditional art venues ( 'Quiero', Majorca, Balearic Islands, 2017; 'Tree of Life', Kuala Lumpur, 2015-2016; 'Fleur' for the Al Hamra show, 2014; 'Arch', Maldives, 2013). All of them give off something sacred, but it is an open, pantheistic, magician's sacredness, where the infinitely large and infinitely small are one, and where the muses are colours, disciples chant colour theories, and mystics are called Michel-Eugène Chevreul, Johann Wolfgang von Goethe and Paul Cézanne.

Vincent Beaurin's artworks are measuring instruments, of the near and the unattainable, of man and landscape, of the unsettling and art history.

Hailing from a tradition of craftsmanship through gold and silversmithing training at the École Boulle, and recognized as a designer for his 'Noli me tangere' collection (1994) and his collaborative projects with the Galerie Néotù, Andrée Putman and Alessandro Mendini, Vincent Beaurin attaches crucial importance to the aptness of forms and the completeness of their execution, lending his works a confident certainty, whatever their dimensions. This certainty and this obviousness are obtained through a pre-semiotic visual language: colours are neither sign-like nor symbolic, but emotional and atmospheric; forms are not complex but elementary and organic; the meaning is never transcendent but immanent. Everything is there, on view, overt, like in the early morning of the day of a heat wave, or the next day all wet from a majestic storm. Landscapes, climates, the mineral world and the sun's cycle all form the horizon of an artist of contemplation, who reconciles in his works painting and sculpture, surface and volume, textures and outlines, self-presence and reflection about space. Because it is not a matter of merely creating, it is also necessary to show and organize the articulation of works between them, within arrangements which reveal them, and link them together, enabling them to encompass the viewer, and go beyond him, the better to trap and incorporate him ('Hand-made colour sculptures: some are paintings, some are statues', 2017, in 'L'Expérience de la couleur', National ceramic museum, Sèvres, 2017-2018; 'Etat alchimique', Brownstone Foundation, Paris, 2017; 'Couronne', 2013; 'Le Spectre', Atelier Cézanne, Aix-en-Provence, 2010; 'Avant la panique', Crédac, Ivry-sur-Seine, 2006; 'The Fun of the Past', Mudam, Luxembourg, 2006; 'Yanomani, l'esprit de la forêt', Fondation Cartier pour l'art contemporain, Paris, 2003).

Vincent Beaurin's works are go-betweens, light, sentimental and tough.

Never smooth, at times harsh, invariably physical, they are like those knucklebones, pieces of flint and pebbles which sometimes emerge on their surfaces, and which we are fond of handling in the palm of our hand. Memento vivi. They ask us to be there and situate ourselves, to remove ourselves from our liquid world to establish a contact zone to be used both physically and sensually, in a state of introspection and listening. To this end, they offer a powdered harmony, an intense calm, a vigorous serenity, that, needless to add, of the alchemist, but above all that of an artist drawn along by a radical quest: the quest for the exposure of optical and pictorial phenomena, forms of liaison and synaesthesia, and a sincere state of the world and art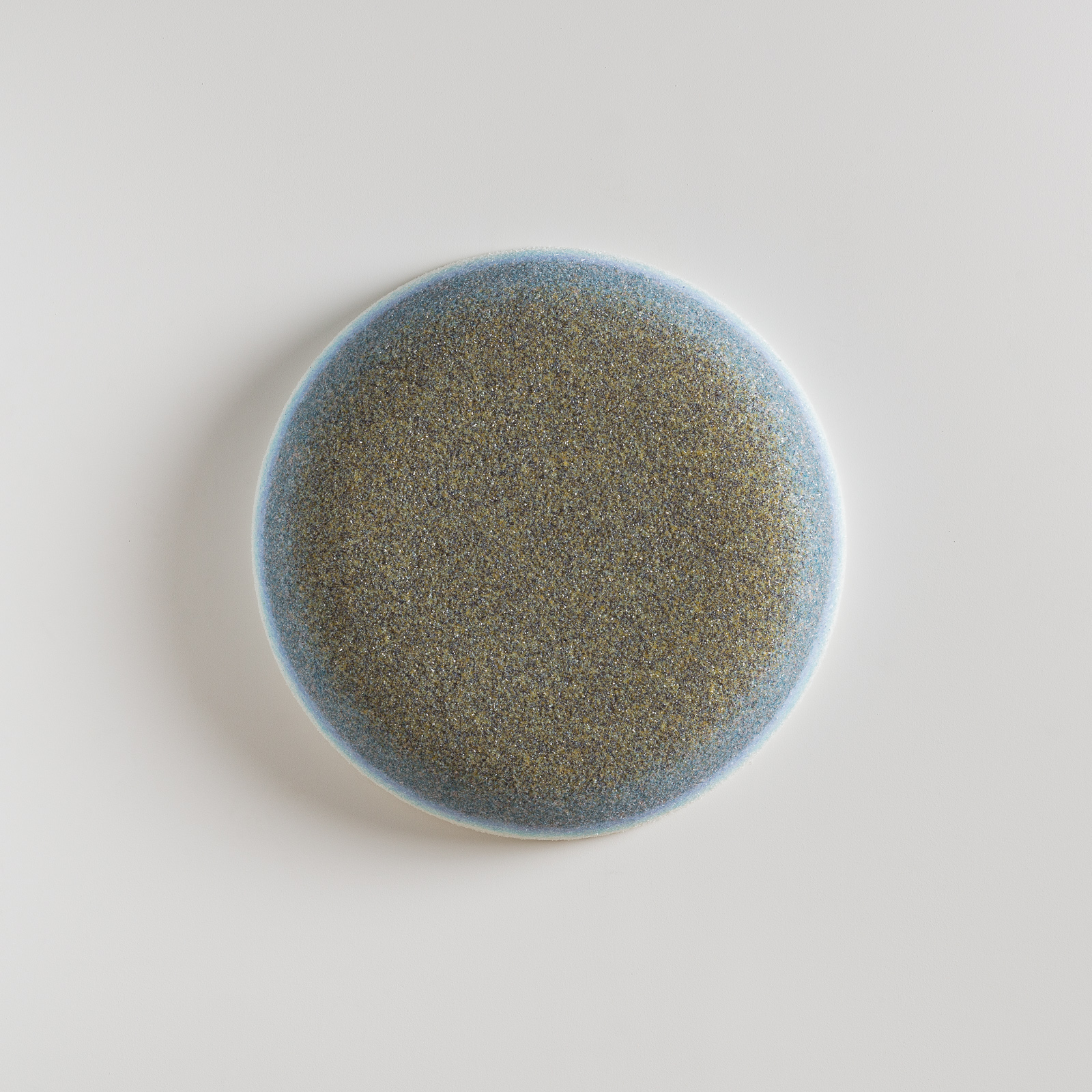 Ocelle
, 2018.
Polystyrene, glass.
Ø 71 x 13,5 cm / Ø 28 x 5 1/4 in.
Unique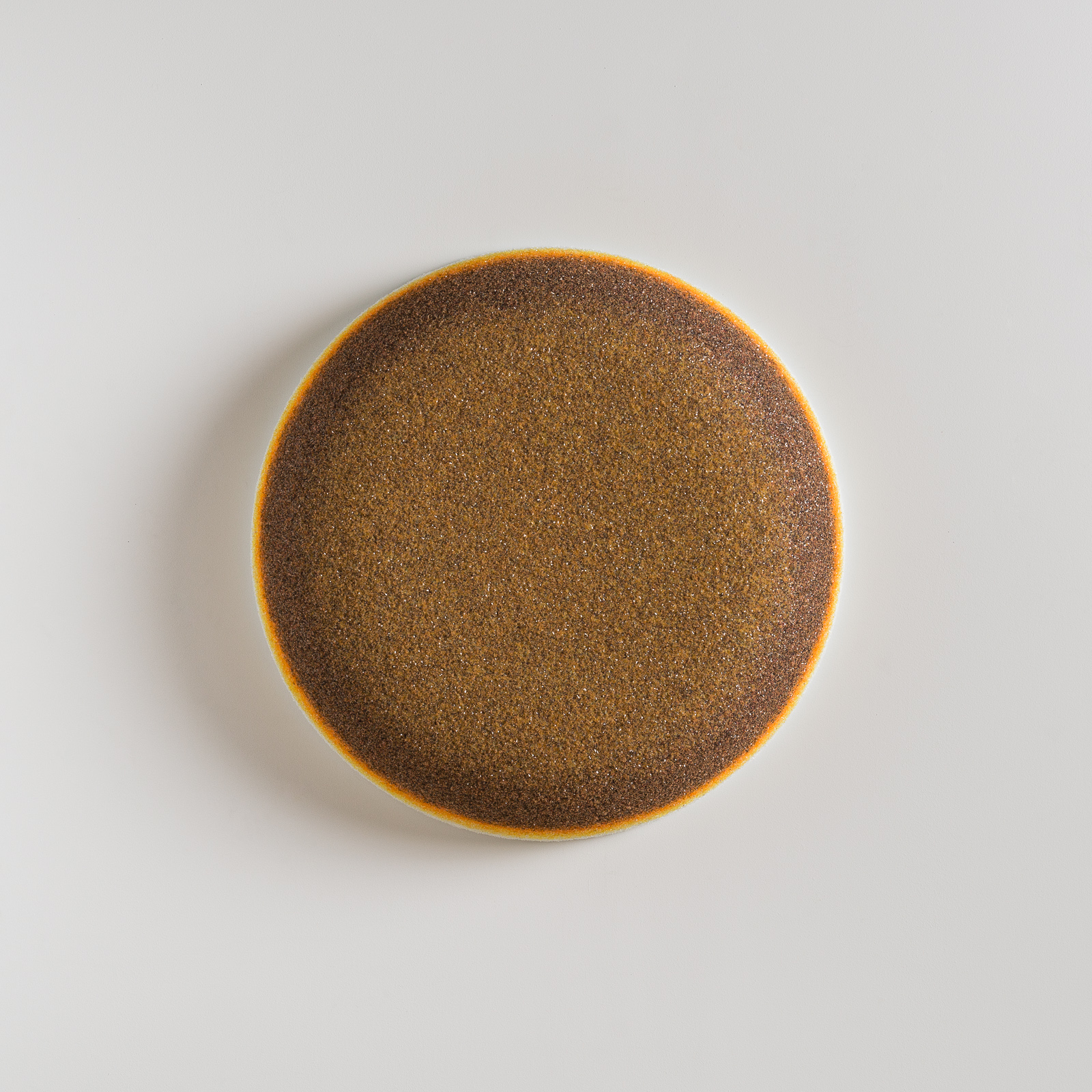 Ocelle
, 2018.
Polystyrene, glass.
Ø 71 x 13,5 cm / Ø 28 x 5 1/4 in.
Unique
Ocelle
, 2018.
Polystyrene, glass.
Ø 71 x 13,5 cm / Ø 28 x 5 1/4 in.
Unique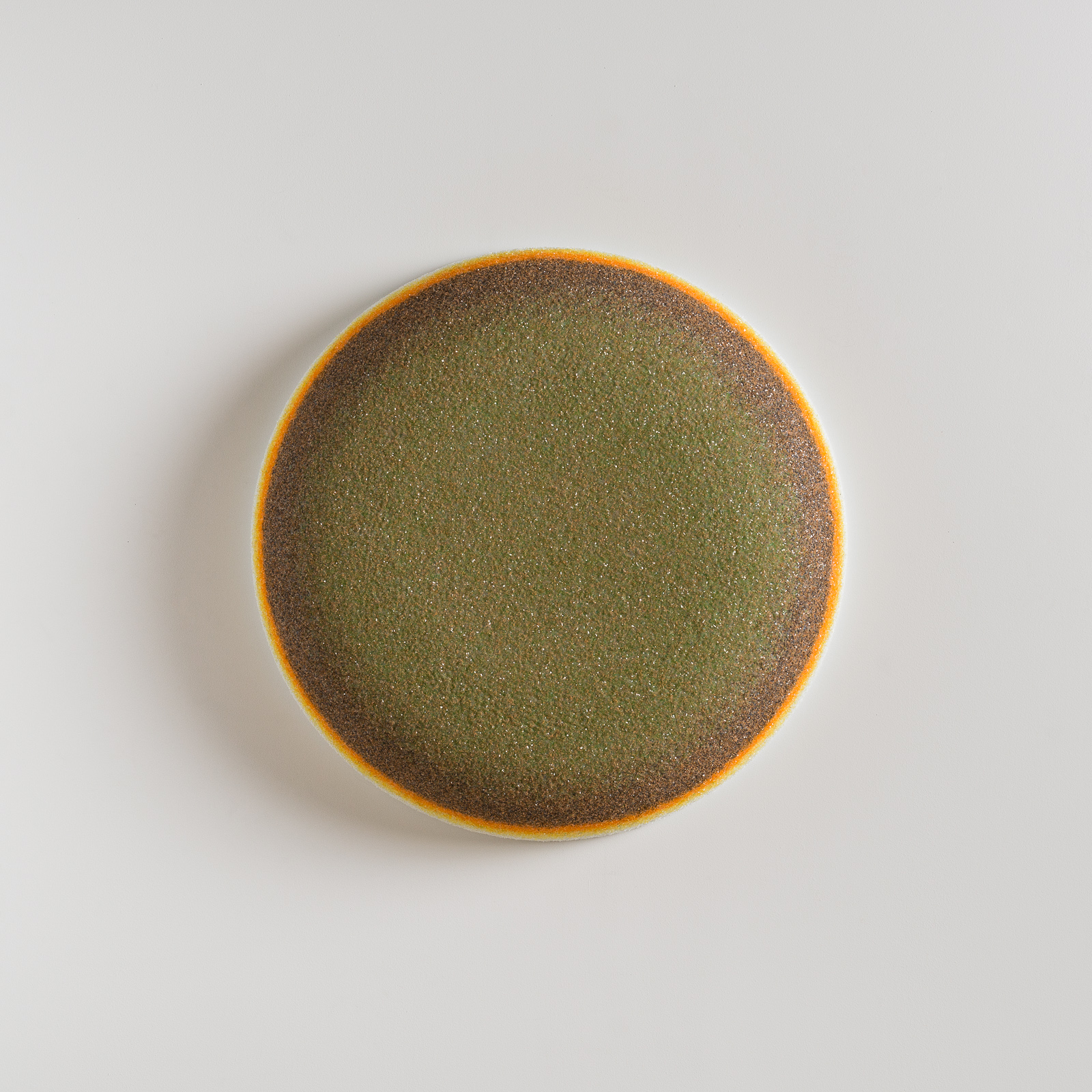 Ocelle
, 2018.
Polystyrene, glass.
Ø 71 x 13,5 cm / Ø 28 x 5 1/4 in.
Unique